---
General Information
Date:
7 - 9 September 2016

Venue:
Sands Expo & Convention Centre, Level 1
Marina Bay Sands, Singapore


Frequency:
Annual

Admission:
Free for trade professionals.
Minors below the age of 18 will not be permitted into the premises.

Dress Code:
Business attire (no shorts and slippers).
As part of our sustainability efforts, we also encourage all visitors to join us in our "no coat, no tie" dress code.

Exhibition Opening Hours:
7 September 2016, Wednesday
10.00 am - 6.00 pm


8 September 2016, Thursday
10.00 am - 6.00 pm


9 September 2016, Friday
10.00 am - 6.00 pm
The annual Mostra Convegno Expocomfort (MCE) Asia is the leading trade exhibition focusing on energy efficiency and optimised indoor environment quality in the "Cooling", "Water'" "Renewable Energy" and "Heating" sectors of the built environment.

An extraordinary business and knowledge exchange platform that brings together an international mix of more than 500 solutions-providers and about 12,000 building professionals from Southeast Asia and beyond.


---
Facts & Figures for BEX Asia 2015
500 exhibiting companies from over 35 countries and regions*

11,060 visitors from more than 50 countries and regions*

79% local, 21% from overseas*

46% senior, 37% middle, 17% junior-level professionals*

More than 330 one-to-one business meetings successfully held*

US$125 million expected in green building business transactions*
*Combined statistics for MCE Asia and its co-located event, Build Eco Xpo (BEX) Asia
---
For Visitors
Why You Should Visit
MCE Asia is your one-stop platform to conveniently source for a plethora of energy-efficient solutions from new innovative players and established brands globally, across the "Cooling", "Water'" "Renewable Energy" and "Heating" sectors of the built environment. It is where you learn about the latest trends and gain actionable insights that will transform your business. With more than 500 exhibiting companies and over 11,000 visitors, one-to-one business meetings with your preferred suppliers and free seminars, MCE Asia offers an immersive and focused networking environment that sparks conversations and opportunities.
Who Should Attend
Architects
Asset Managers
Developers
Distributors
Energy Managers
Facility Managers
Government Officials
HVAC Contractors
M&E Consultants
M&E Engineers
Plumbing Contractors
Project Managers
---
For Exhibitors
Why You Should Exhibit
MCE Asia brings you closer to the buyers and influencers in Asia, facilitating the sale and export of your energy-efficient solutions for the "Cooling", "Water", "Renewable Energy" and "Heating" sectors of the built environment. As a 360° sales and marketing channel, MCE Asia helps your business to generate leads and brand visibility prior, during and after the exhibition.
Year-long, one-stop platform to reach out to the building and industrial community in Southeast Asia
Forge new partnerships and strengthen existing connections
Accelerated gatway to export markets
Promote your brand and demonstrate your expertise
Be associated with the who's who
Benefit from regional media coverage worth more than S$6 million
The following product categories are represented and suitable to exhibit:
Automatic Controls
Bathroom Accessories
Heating, Ventilation, Air-Conditioning & Refrigeration (HVAC-R)
Measuring Instruments Regulation and Control
Plumbing Technology
Renewable Energy
Valves for Industrial and Domestic Use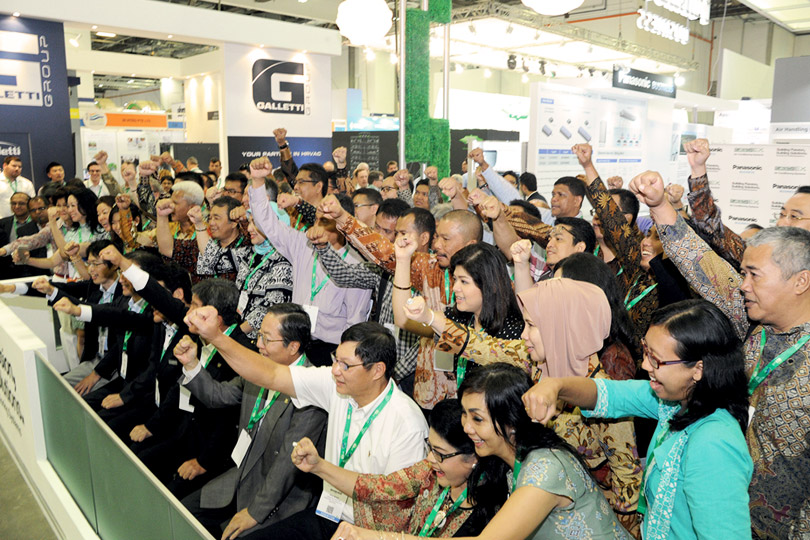 ---
For more information on the MCE Asia 2016 exhibition, contact us at:
Sales Team
Ms Louise Chua
Project Director
Tel: +65 6780 4653
Email:
This email address is being protected from spambots. You need JavaScript enabled to view it.
Ms Michelle Goh
Assistant Project Manager
Tel: +65 6780 4573
Email:
This email address is being protected from spambots. You need JavaScript enabled to view it.
Mr Wong Wen Kai
Project Sales Executive
Tel: +65 6780 4570
Email:
This email address is being protected from spambots. You need JavaScript enabled to view it.
General Enquiries
Tel: +65 6780 4658
Email:
This email address is being protected from spambots. You need JavaScript enabled to view it.
All information in this section is contributed by Reed Exhibitions Singapore.